Monthly Archives:
October 2009
There is no excerpt because this is a protected post.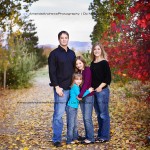 and their only request was color…lots and lots of color. I went and drove around and found some great spots last wednesday…mom found a great one too. By Saturday evening the wind had come and blown almost all the color away. I honestly think we snuck in the last little bit for the year! Thank […]
and she was just perfect for me! She let me bend her, fold her, curl her…..just the perfect little model. We found the best light upstairs, so I even got my workout for the day. Thank You for a wonderful session!