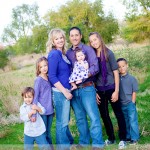 In addition to photography, Amanda is also the mother of 5, and a part-time manager for her husband's chiropractic clinic. Because of her busy schedule, she is only available to take on a few sessions each month.
For NEWBORN sessions, the best time to call Amanda is before your baby arrives so that she can prepare her schedule. Be sure to inform her once the baby is born (or shortly thereafter) so that she can set a date aside for you in the early weeks. Please keep in mind that the optimum time to photograph newborns is in the first 2 weeks of life. Amanda likes to keep newborn sessions within this time frame as close as possible.
Your newborn session will take place at Amanda's in-home studio for best controlled conditions and for convienent access to all props and set-ups. The session will last approximately 2-4 hours as we follow the comfort and feeding needs of your baby. Amanda's studio is kept very warm for newborn sessions so please dress lightly or in layers so that you can be as comfortable as possible. When you book your newborn session Amanda will send you more information detailing what you can do to help make your newborn session a smooth success.
Amanda loves to see your babies again! For OLDER BABY sessions, the best time to book a session is when your baby is sitting well but not quite crawling… typically between 5-7 months. This session will last less than an hour so we don't lose your baby's attention.
At this time, Amanda is only booking MATERNITY SESSIONS when booked together with a newborn session. The best time for belly photographs is between 34-38 weeks pregnant.
Please contact Amanda for additional information.
You can see her portfolio by visiting her Website
http://amandaandrewsphotography.com/
TERMS AND CONDITIONS
***Amanda Andrews reserves the right to use any photograph for advertising, trade, and any other lawful purposes.***
***All photographs are copyrights of Amanda Andrews Photography and it is illegal to copy, scan or reproduce any images without written permision whether purchased or not.***
***All prices are subject to change. Prices will be set at time of booking and honored for 30 days from session date***
***All purchases are subject to 6% Idaho state sales tax***
***All Images will be purged after 60 days without purchase. All other photos will remain available for 90 days
Please contact Amanda for additional information.
aapbabies@gmail.com
208-590-3842